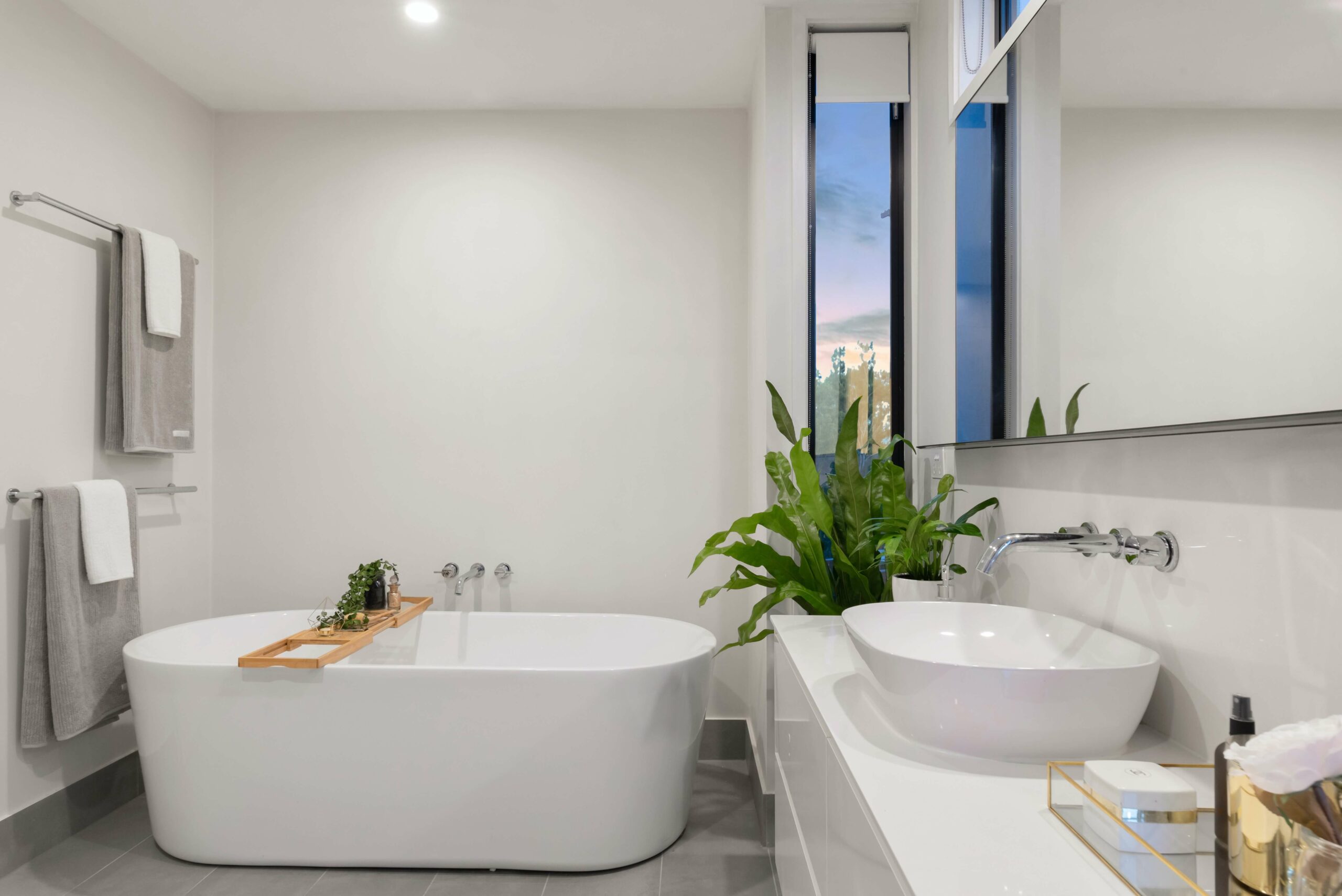 Did you know that 6 in 10 Americans plan to remodel their bathroom? If you're reading this, you're likely one of them or know someone interested in a bathroom makeover. Yet with so many options and a myriad of Pinterest boards showcasing thousands of beautiful bathrooms, where do you even begin?
Well, here at Cornelius Construction, we've compiled a list of excellent bathroom remodeling ideas guaranteed to bring a new ambiance to your room. Keep reading to cut through the noise of excessive inspiration and discover 15 considerations that are guaranteed to brighten your bathroom.
1. Walk-In Shower
Walk-in showers are an ever-popular choice for larger bathrooms. Not only do they give the room a contemporary appearance and spacious feeling, but they also come with several practical benefits.
For example, walk-in showers offer greater accessibility to those who struggle with mobility while also providing plenty of room for movement and space for recessed storage.
Combined with accent features, such as rainfall showerheads and in-shower cabinets, walk-in showers make for elegant use of space. Though, installing such a large shower space will likely require additional plumbing, calling for building permits. Nonetheless, if the idea of a walk-in shower appeals to you, it's worth considering despite the hassle.
2. Centerpiece Bath
A centerpiece bath is a great choice for the focus of the bathroom. They can be freestanding, alcove, corner or any other type of design that fits your decor.
Whatever style you choose, a centerpiece bath should immediately draw the eye when entering the room. You may even elect to design the rest of your bathroom around your bathtub selection.
If you're looking for a particularly lavish option, you can have a bathtub custom-made to fit your required dimensions and design style. This ensures that your bath marries aesthetically pleasing design with proper use of your space.
3. Recessed Medicine Cabinets
Clunky cabinets protruding from your bathroom wall or awkwardly hung above your sink only detract from the overall sleekness of your bathroom. This is a scene you don't want to see when creating a contemporary and elegant design. Though there are ways to strategically place medicine cabinets, installing a recessed unit is both effective and visually pleasing.
As recessed medicine cabinets need to be professionally fitted, there are more options for customization. For example, you can have cabinets of all shapes and sizes installed with deep shelving for increased storage space. You can even have hidden lights installed around the mirror's edge, perfect for lighting midnight bathroom trips without hurting your eyes.
4. A Place for Plants
Did you know that indoor plants have been proven to make people feel happier and more at peace? Spending just ten minutes in a room with plants makes you feel more satisfied than in a room without. As a result, creating space for plants in your bathroom is a simple yet effective way to improve the room's atmosphere.
Many varieties of plants thrive in a bathroom environment, thanks to the humidity. For example, aloe vera, snake plant, ivy, and bird nest's fern are just a handful of plants suited to bathrooms. Many of these will live happily on floating shelves, beside your sink or even in your shower.
5. Garden View
As discussed above, plants are an excellent mood booster, which extends to all greenery types. So, if you're considering adding a place for plants, why not take it a step further with a picturesque garden view? This, of course, is only possible if your bathroom faces your garden. Otherwise, you may consider remodeling the structure of your house.
Adding a garden view to your bathroom requires the installation of–preferably–large, unfrosted windows. The bigger the window, the better the view and use of natural light. Although, well-placed smaller windows may also work. After all, creating the perfect garden view means placing windows in the right place, whether that be behind your bath or sink or even in the shower.
6. Double Vanity
Sharing an ensuite bathroom can be a claustrophobic affair, even if you boast a large bathroom. Installing a double vanity unit solves this problem by providing more sink and storage space. It also helps to add a sense of grandiose style to your bathroom by showcasing the vastness of your space or excellence of design.
Regardless of your space, however, there are several types of vanity units that can be installed, such as floating units, freestanding, and cabinets for all sizes of bathrooms.
7. Marble Countertop
Traditionally a material used for kitchen worktops, marble countertops are a practical and stylish choice for your bathroom. They lend themselves to both the minimalist approach with use as sinks or tiling, as well as the extravagant approach with heavy, solid worktops. Marble also comes in many colors, such as white marble, and can coordinate nicely with most designs.
From a practical standpoint, marble is well suited to bathrooms, as it is durable and highly resistant to water and heat damage, all while being easy to clean. When installing a bathroom countertop, marble should be a first choice over synthetic materials like quartz.
8. Wainscoting
Wainscoting is a form of wooden paneling that covers the lower portion of your walls. It helps to break bland walls and colors up while covering any superficial wall damage already present and further protecting the walls.
The downside to wainscoting, however, is that it can make rooms look slightly smaller due to their protruding nature.
Yet, wainscoting can provide financial benefits as well as protection. As a result of the way they are installed and placed in rooms, they provide an additional layer of insulation. This may not seem like an issue in hot areas like California, but what many people don't realize is that insulation also helps retain cool air, which can help save money on both AC and heating.
9. Tiled Floors
Many people opt for wooden or linoleum flooring when designing a bathroom, but these come with several disadvantages. For instance, the buildup of mold and mildew and low durability. Installing a tiled floor helps solve these issues. It also makes tiled flooring a perfect companion to walk-in showers and wet rooms.
So what types of tiles are best suited for use in bathrooms? Due to their customizability and durability, ceramic, stone, glass, and porcelain are the most suitable tile choice in bathrooms.
10. Underfloor Heating
Underfloor heating may not be an obvious choice for California residents due to the already incessant hea, but there's no harm in considering underfloor heating for those few cold days and cozy nights. In fact, comfort is at the very core of underfloor heating. Whether in a warm climate or not, hopping out of the shower onto a heated floor is always a pleasant experience.
Moreover, underfloor heating offers relatively low running costs compared to traditional heating methods, and adds overall value to your house. At any rate, this addition to your bathroom remodel should certainly be considered.
11. Heated Towel Rack
Like underfloor heating, as a Californian, you may not immediately see the benefits of a heated towel rack. But besides bringing warmth to your bathroom, they also serve to keep your towels dry after use. Not only does this prevent odor, but it also reduces the risk of bacterial spread due to damp buildup.
It's important to consider that installing a heated towel rack will require additional plumbing or electrical work in your bathroom. As a result, you must consider your access to amenities within the bathroom before installation. This will help determine whether you want electric towel racks or central heating-powered racks.
12. Increase Ceiling Height
Increasing ceiling height is a solid alternative if you want to increase the size of your small bathroom but lack the land to do so. Though it won't actually give you more floor space, it will create the illusion of space; therefore making your bathroom feel less claustrophobic.
Once heightened, you can make use of the new space by installing a skylight that further opens up the room. It makes additional design options available, such as chandeliers and other types of ceiling lights, and removes the constraints of traditional spotlights and small recessed lights.
13. Hidden Cistern
Some toilets offer great contemporary designs, while others bring clunky shame. One way to overcome such design indignity is to hide the cistern. Doing so leads to a more refined and contemporary space, and hides the harsh visual realities of plumbing mechanisms.
Hiding the toilet cistern is a similar process to installing a recessed medicine cabinet in that it will be concealed in the wall, usually behind a removable panel. Concealing your cistern creates more space while also reducing the risk of bacteria spread, as cisterns are a breeding ground for invisible germs.
14. Strategically Placed Mirrors
Strategically placing mirrors in small rooms is a common way to create a feeling of spaciousness. So, why not employ this popular interior design tactic in your small bathroom design? It's a simple, low-cost, yet effective way to change the perception of your space.
Yet, there are many other ways you can use mirrors. They can create a sense of drama, increase room light, and accent the room's greater design. Its effect, however, entirely depends on its style and positioning, which should be considered when purchasing your next mirror.
15. Utilize Natural Light
Utilizing natural light in your bathroom creates a harmonious atmosphere that plays to your body's biology. Waking up and bathing – quite literally – in a naturally lit bathroom will help to wake you up and ready you for the day ahead.
Skylights, picture windows, and frosted windows and all viable options to increase natural light. However, there are many other ways to utilize natural light, such as the previously discussed placement of mirrors.
Bathroom Remodeling from Cornelius Construction
If any of these bathroom remodel ideas appeal to you and you're located in the Orange County, CA area, consider working with Cornelius Construction. We have a team of experienced general contractors with the necessary skills to remodel your bathroom to an outstanding standard. Get in touch with us today to learn more about our services.