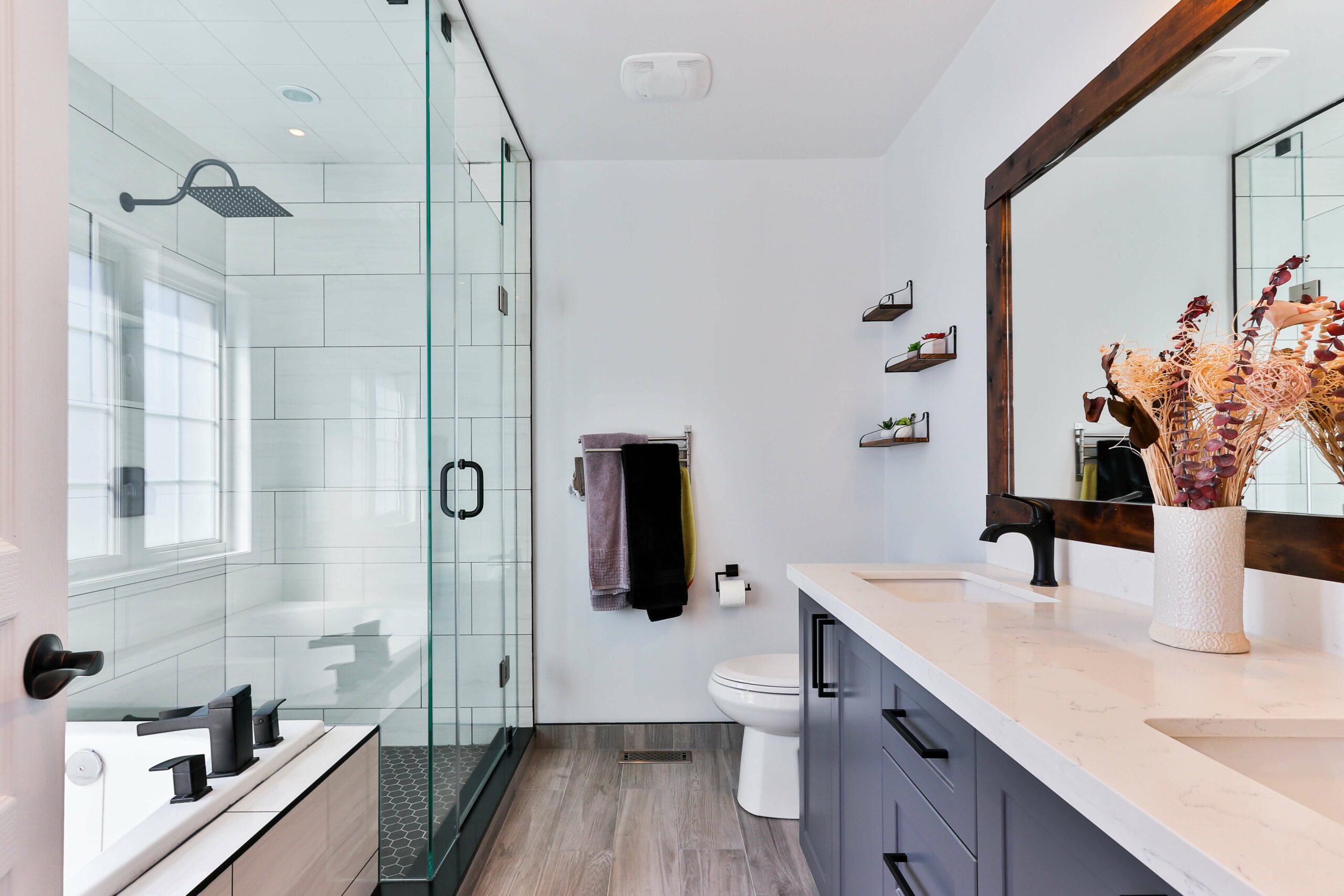 The master bathroom is one of the most important spaces in your home, as it's generally where you get ready for the day. It's also the place where you unwind each night before heading to bed.
That's why it's essential that homeowners take the extra step in ensuring that their master bathroom is comforting, calming and full of details that reflect their own unique personality.
In this article, we will be exploring our ten favorite ideas that we believe every master bathroom should include.
1. Freestanding Tub
Freestanding tubs are one of the most popular bathroom enhancements right now, but they're much more than just a fleeting trend–they're a timeless take on your everyday bathtub.
Not only do they provide the master bathroom with visual appeal and effortless elegance, freestanding tubs offer functionality as well, since they are typically much larger than built-in tubs, which means that there's more space for relaxing and soaking.
They also come in a variety of style options for any aesthetic. A clawfoot tub, for example, is perfect for a vintage look, while those with more contemporary taste might opt for a rectangular or slipper design.
2. Walk-In Shower
Walk-in showers are another must-have for your master bathroom, as they are practical and easy to get in and out of. They are also fairly low maintenance and much easier to clean than traditional bath and shower combos.
Like freestanding tubs, walk-in showers are available in countless design options to match your personal style, and can be further customized with complementary accessories like tiling, faucets and doors.
2. Double Vanity
The advantages here are obvious: a double vanity means more sink and storage space. It also means that two people can easily use the master bathroom space at the same time on busy and rushed mornings.
This small addition will greatly increase the value of your home and make it more attractive to buyers since master bathrooms are generally shared by a couple.
3. Natural Light
Incorporating natural light can make a significant and positive difference in a master bathroom.
Not only will it add visibility, it will also impact your mood and make the space more peaceful. You can even open the windows during the day to let in fresh air, further boosting your spirits and overall health.
For those who don't have the capacity for windows, however, a skylight can also be installed to successfully brighten up the space.
4. Dressing Table
A dressing table or "makeup vanity" offers extra storage space, while also providing a specific area for getting ready for the day.
This master bathroom update is an ideal enhancement for master bathrooms with double sinks, as the dressing table can easily be built-in between the two hand basins to maximize space and optimize organization.
5. Statement Fixtures
From chandeliers to pendant lights, the possibilities here are truly endless. But one thing's for sure: adding statement fixtures to your master bathroom is the perfect way to put your own personal touch on the space.
Statement fixtures not only pull your whole design together, they also can also create a relaxing ambiance that's essential for soaking in the tub after a long day.
6. Heated Floors
Radiating heat throughout the room from the floor up, heated floors will give your master bathroom a luxurious feel, while also efficiently heating the space.
Another perk of heated floors, which come in different options like electric mats installed underneath the floor or even heated tiles, is the fact that they are both discrete and noise-free. They also don't require routine maintenance once installed, and can last up to four decades before needing to be replaced.
While it may seem like an excessive cost upfront–between $5 to $20 per square foot–heated flooring will likely help save money in the long run. In fact, according to the US Department of Energy, heated floors are 25 percent more efficient than traditional HVAC units.
7. Floating Shelves
Floating shelves seem to be a top-trending enhancement that's being utilized throughout the home, especially the master bathroom.
Generally more cost effective than installing cabinetry, floating shelves can substantially expand storage space. They also offer functionality and convenience, as you won't have to rifle through drawers searching for frequently used items.
Additionally, floating shelves can be a great way to tie together your overall design by selecting a complementary shelving material and showcasing decorative items like pictures, candles and plants.
8. Mixed Materials
Combining materials is an easy and effective way to add interest and visually balance your master bathroom, and it works with pretty much any design.
For a farmhouse look, for example, you could pair a brick backsplash, wooden shelves and bronze fixtures, while tiled floors, chrome faucets and a marble vanity top might be incorporated in a more modern master bathroom.
You can also play around with mixing metal finishes. The trick, however, is to be sure that you're not mixing too many materials or finishes, as that could result in a mismatched and chaotic space.
9. Water Closet
A separate room with a toilet within the master bathroom space, a water closet is becoming increasingly common in modern homes.
In fact, the National Association of Home Builders says it's currently one of the most desirable features in a home. Not only do water closets provide much-needed privacy, they also offer cleanliness, as they prevent the spread of contaminants when the toilet is flushed.
Unfortunately, water closets do require additional space that not everyone has in their master bathroom. For this reason, some homeowners may opt for a partial water closet by installing a partition or a half-wall.
Cornelius Construction
No matter what you have in mind for your master bathroom, Cornelius Construction is here to help you every step of the way. Book a consultation today to speak with our team about how we can turn your space into the master bathroom of your dreams.