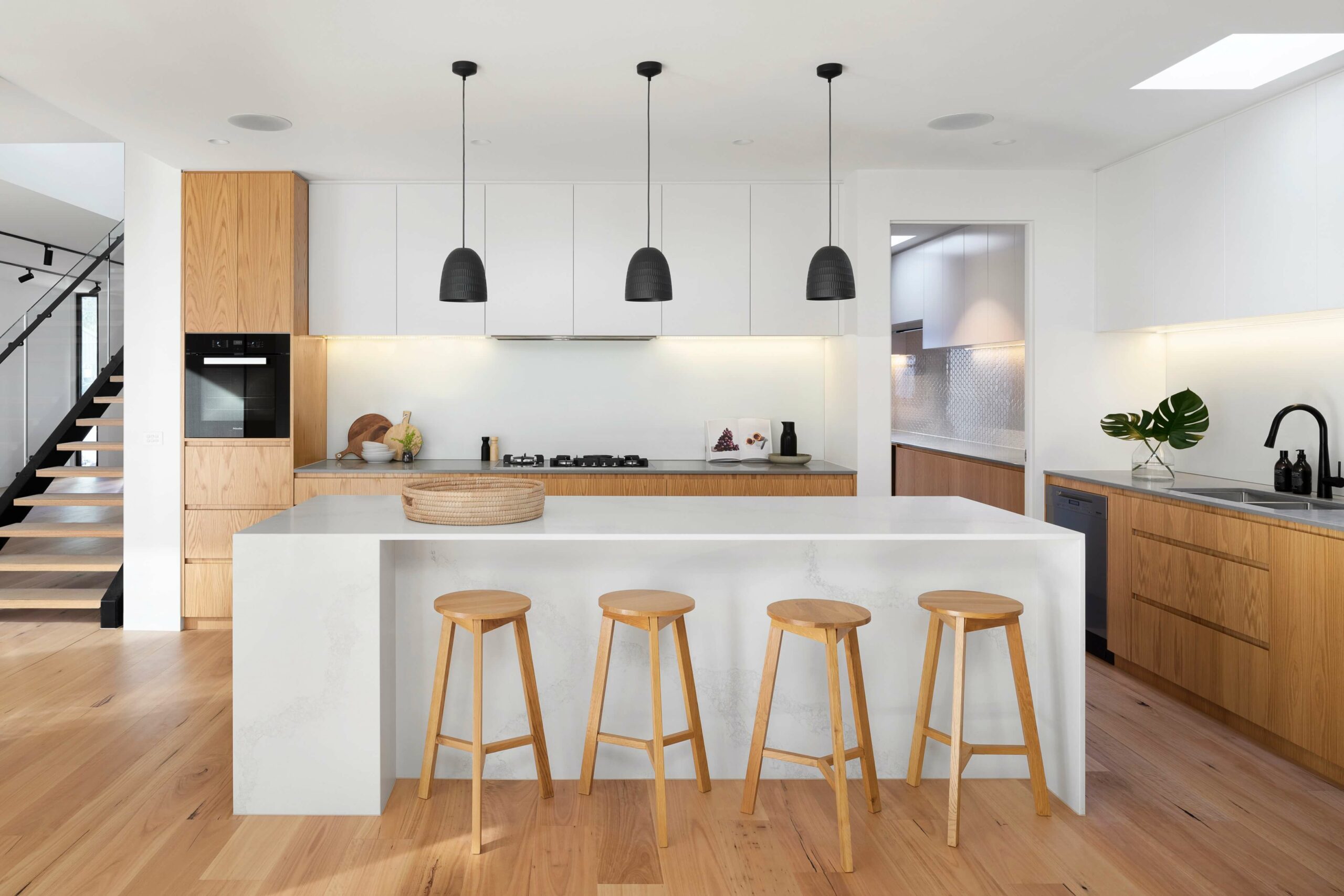 Because the kitchen is the heart of the home, it's important to make sure that the space is well designed and inviting, as it acts as a gathering area for a variety of functions. So, it only makes sense that homeowners may need to revamp their kitchen space every so often to ensure that it remains appealing and up to date.
Keep reading to learn more about how you can give your kitchen a modern facelift by incorporating some top design trends for 2023.
1. Natural Elements
2022 saw some big changes in the way of interior design, especially in terms of the kitchen space. Homeowners are moving away from the all-white look that gained so much traction in the last few years and are now turning to incorporate more Earth tones.
In fact, according to a Fixr report, 67 percent of the interior designers surveyed said the top kitchen trend of the year is the integration of natural elements throughout the design.
This can be achieved by adding natural wood accents like butcher block countertops or using Earthy paint colors like Benjamin Moore's October Mist or Sherwin-Williams' Evergreen Fog–two grayish shades of green that just so happen to be 2022's colors of the year.
2. Mixing Materials
Another top kitchen trend we're seeing this year is the mixing of materials, which is a great way to also incorporate natural elements. Those butcher block countertops mentioned above, for example, could be accompanied by a quartz backsplash, stone floors and laminate cabinets.
Some homeowners may also opt for combining modern and vintage design concepts like contemporary cabinetry and antique-looking appliances. This will not only add interest to the overall design, but will also create a certain level of nostalgia that can make the kitchen space even more inviting.
3. Decorative Backsplashes
Ornamental backsplashes are also gaining popularity this year, with more and more homeowners installing a slab backsplash that provides a sleek and seamless extension of the countertop. This helps to open up the space and may even make the kitchen appear larger than it really is.
In addition to slabs, backsplashes that reach the ceiling are another luxurious take on the trend. This option is typically more affordable than slab backsplashes, but will still successfully add a captivating dynamic to the space.
4. Bold Countertops
A kitchen remodel would not be complete without updated countertops, and this year many homeowners are going bold with exceptionally thick countertops and built up edges.
While quartz remains the most popular material for countertops due to its durability and low maintenance properties, many homeowners are also flocking to quartzite–a natural stone that's fused with crystals through a process of heat and pressure. This results in a wide range of patterns and colors, making it a favorite choice for countertops, as it can easily fit a variety of kitchen styles.
Porcelain, marble and, of course, butcher block countertops have also been used more and more in the last years kitchen renovations.
5. Open Shelving
Floating shelves seem to be one of the biggest trends of the year, especially in kitchens, as it  up a space and makes it appear less cluttered.
Open shelving also provides the ability to showcase sentimental or decorative items and incorporate them into your overall design, making it a popular option for both large and small kitchens.
Homeowners also like the fact that floating shelves can be easily customized to fit any space or style. Wood shelving, for example, may be utilized for a rustic farmhouse look, while homeowners with a more modern design might opt for a material like stainless steel.
6. Statement Pieces
When renovating your kitchen, it's important to make a statement, and one of the simplest ways to do so is with lighting fixtures.
Lighting is not only necessary to illuminate the space, but a decorative fixture can act as a focal point and tie together the entire design. There are also plenty of options–from pendants to chandeliers–in a variety of styles.
In addition to lighting fixtures, range hoods can also be used as a statement piece. Custom hoods can be covered with wood or made from eye-catching metals like copper or brass to add another layer or personality to the kitchen space.
7. New Cabinetry
Cabinetry can go a long way in giving a kitchen an updated look, but installing an entirely new set could get a little pricey. Fortunately, homeowners looking to give their kitchen a facelift could opt for a more current finish on their existing cabinets.
Natural wood finishes are a top choice this year and will likely prove to be a timeless trend. Other popular cabinet colors include Earthy green hues, as well as darker shades of blue for homeowners who'd like to go a little more bold.
8. Add An Island
For homeowners with larger kitchens, adding an island is an obvious decision during a renovation. An island not only provides extra cooking and cabinet space, it also acts as a way to open up the kitchen and make it more appealing.
Homeowners can make the most of the island by installing a vegetable sink or even a breakfast bar for additional guest seating.
9. Install Hardwood Flooring
Installing hardwood flooring is another long-lasting and classic design choice that should be included in any kitchen remodel. Hardwood floors can successfully add warmth and visual interest to the space, and will also substantially increase the value of the home.
Homeowner's can stay on-trend with this year's natural theme by choosing a lighter tone for their kitchen flooring like blonde wood or oak.
10. Updated Appliances
Because appliances are an essential part of your kitchen, it's important that they are updated periodically to ensure top performance. New appliances can also pull your kitchen design together. Stainless steel appliances, for example, will provide a sleek, uniform look for a contemporary kitchen.
If the built-ins themselves don't need to be replaced, homeowners can update countertop appliances like blenders and stand mixers with colorful options to accent their design with a pop of personality.
11. Open Layout Design
Kitchens with open layouts are popular for a reason. The design not only boosts functionality and opens up the home, it's also ideal for social gatherings. Due to this versatility, an open layout is a must-have for anyone interested in renovating their kitchen.
An open kitchen is also one of the most sought after components of a home and can greatly increase its overall value.
Cornelius Construction
Inspired to remodel your kitchen? Cornelius Construction offers first-rate construction and general contracting services that will satisfy all your design requirements. Our aim is to not only enhance your lifestyle, but also help you increase the value of your home. Give us a call so that we can get started on your dream kitchen today.